By some accounts the concept of the Stone Mountain carving honoring the soldiers who fought for the South during the Civil War began with one person, Mrs. Helen Plane of Atlanta who had lost her husband in the war. Whatever the genesis of the idea, it is obvious that the idea was taken up by the United Daughters of the Confederacy (UDC) and advanced by discussions with Gutzon Borglum in 1915.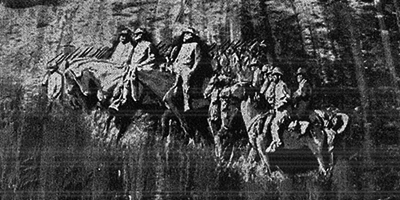 But no matter who originated the idea it was dwarfed by the conceptual carving as expressed by Borglum. The original concept of the UDC was a twenty by twenty foot bust of the head of Robert E. Lee on the side of the mountain. Borglum correctly recognized that such a memorial would be dwarfed by the size of the mountain. At 867 feet tall, over a mile wide, and with a circumference of seven miles, Stone Mountain is one of the largest granite outcrops in the world.
But Borglum's concept was well beyond anything that could be funded. He conceived a carving that would be 1,200 feet wide and would show between 800 and 1,200 soldiers. He also envisioned a Memorial Hall that would be 320 feet by 60 feet. Much like Petra, it was to be carved entirely into the mountain and only a bronze door would be other than stone. The memorial hall had a secondary purpose of preserving the names of all the contributors to the work, a roster of all Confederate soldiers, and a chance for major contributors to have their names carved on the walls. If this were not enough, Borglum also planned to build the world's largest amphitheater in front of the memorial hall. Dreaming big was not a problem, but execution of this plan was financially and practically impossible. The UDC campaign envisioned raising $8 million from donations and sales. This was probably a more practical cost figure, but unattainable. The sales goals were broken down as follows:
1,000 enrollments of $5,000 each
2,000 enrollments of $1,000 each
1,000,000 enrollments from the children's founder's roll at $1.00 each
Notice that the coin sales were not included in this initial concept, so we might assume that sales shortfalls helped foster the concept of the commemorative coin.
Once the UDC and Borglum agreed on design and accepted the challenge of creating the memorial, the need for funding was born and it is from this event that the Stone Mountain Half Dollar was created. Without the carving and the need for funding there is no coin to collect and study.