We think the reverse design is artistically one of the better commemorative coins of the era. But from a practical standpoint it leaves a lot to be desired.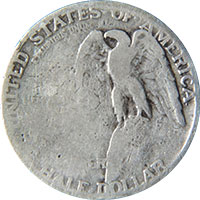 As mechanically bad as the obverse is, it is much better than the reverse. There are some things to learn about coin design and construction from the mistakes, and Fraser was right to object to the design.
The design of a coin works best when the high points of the devices are in the center of the die. This insures that as the coin wears, assuming somewhat even removal of metal, the loss of detail will be somewhat symmetrical.
But Borglum was not a coin engraver and in his fight for artistic license he place the eagle off center to the right. The eagle's breast is the high point and it cannot preserve the equal wear of a coin with a centered device. Many coins show a distinct pattern of wear where the detail begins to disappear from the lower left quadrant before it is lost elsewhere. The eagle's breast shields the upper right quadrant from wear.
Stars on the reverse are even a greater mystery. According to documentation there were to be thirty-six stars, one for each State in the Union at the end of the war. The original design shows all thirty-six. But in the fight between Borglum and Fraser and the creation of a modified version one star was lost and the final design only has thirty-five.
To make matters worse Borglum made the field level uneven to represent the mountain and the stars were not intended to be strongly represented. As a result it is rare to find a coin where all thirty-five stars can be counted, even in grades as high as Mint State 66 they are often missing.
In his article in November 1977 in "The Numismatist," Radford Stearns gave an illustration of the final galvano plates used to create the coin hubs. These were dated 1924, so others had to be completed with the 1925 date before production proceeded.
​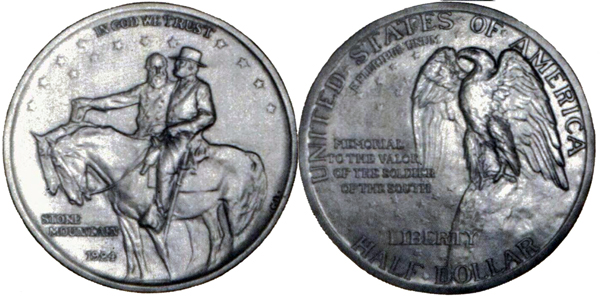 Click on the image for a larger view
These are not great images of the galvano so we are searching for others. But an interesting note is that all the features were created prior to hub production and nothing added by a punch. This might explain some of the soft features on the coin since the transfer lathe may have produced less precise images than a punch.