The carving on Stone Mountain is the largest relief carving in the world. It measures 90 feet tall by 190 feet wide, or 17,100 square feet. At its deepest, the relief is carved 42 feet into the rock face.

Gutzon Borglum, who went on to carve Mount Rushmore, had grandiose designs for more than the carving and envisioned a complex that included a memorial hall and reflecting pond leading up to the carving. This is not too different from his plans at Mount Rushmore which also had to be scaled back. He expected to carve the memorial hall into the mountain, and he had similar plans at Mount Rushmore. At Mount Rushmore he planned to house the Declaration of Independence and the Constitution.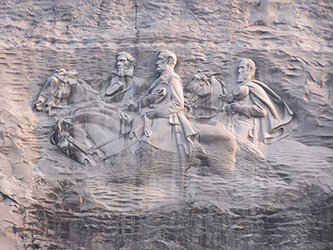 Three figures on horseback featuring Jefferson Finis Davis, Robert Edward Lee, and Thomas Jonathan "Stonewall" Jackson make up the entirety of the sculpture. This is greatly reduced in size and complexity from the original concept by Gutzon Borglum. But after three attempts it is what was achievable balancing time, money, and effort.
Any student of the Civil War knows who these three men were, but few know of their government positions prior to the beginning of the war in 1861. All three graduated from West Point and served in the army during the Mexican-American War. Davis, who is less often studied, also served in Congress and as Secretary of War, and married the daughter of President Zachery Taylor who was his commanding officer during the war with Mexico.
One interesting side note between the coin and the carving are the noticeable differences. On the completed carving the three riders have their hats covering their hearts, whereas on the coin Lee is wearing his hat. On the coin Jackson and Lee are in the lead with Davis completely out of the picture. These differences exist because of timing. The coin was struck to help raise money for the project and done early in the project when Borglum was still involved. His design made it to the coin and early items of exonumia, but not completely to the mountain.