The Stone Mountain Half Dollar has only one variant recognized by all the major third party grading services (PCGS, NGC, AND ANACS), but there are more. We are discovering many more based on strike, die features, die repairs, and die failures.
PCGS now recognizes the Double Die Obverse, Double Die Reverse, and a Double Die Obverse and Reverse. PCGS recognizes the Double Die Obverse as a major variety and the others as a minor variety for the series. PCGS also recognizes a long list of counterstamps used in the sales of coins to raise money for the memorial. No other service makes note of the counterstamps and they are perhaps the rarest of the rare for this series. For most there are fewer than ten certified coins.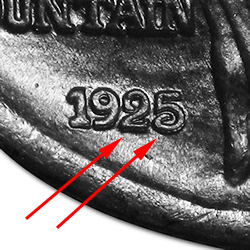 The double die obverse coins are usually recognized by doubling of the date, but can also be seen in the STONE MOUNTAIN legend. We are discovering that there are several variations on this theme with additional doubling of lettering and even tripled versions.
The obverse doubling can also be combined with die rotation, and the degree of die rotation can be a good signal that you are looking at a potential double die coin. However die doubling has to be differentiated from strike doubling and this will be one of our challenges. Strike doubling is a production issue verse die doubling which is a die creation issue.
The double die reverse is easily identified by a doubling or tripling of the F in HALF and the O in DOLLAR. At times on higher grade coins a doubling of the letter D can also be found. The F is doubled on the bottom of the upper cross bar and the O is doubled on the inside of the upper loop. We also have examples of coins with F DO all doubled in the same region of the coin. The LDIER in SOLDIER is doubled on the bottom, as well as the OUTH in SOUTH.
​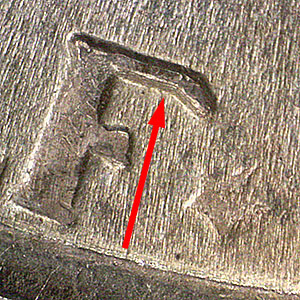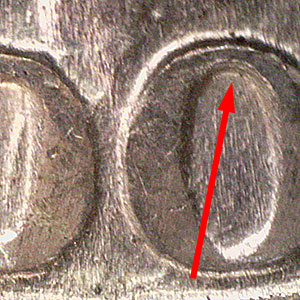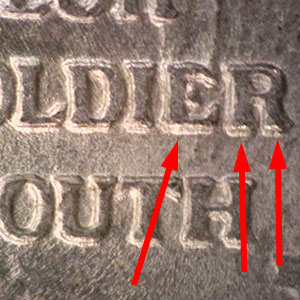 There can also be minor doubling of the legend at the top of the coin.