The existence of a doubled reverse die has been known for years, and the combination of the doubled obverse and reverse combination is well documented. We can verify these from our own inventory and we believe others as we move forward. But unlike the Double Die Obverse coins, there is no standard by which to judge the coins. The "Cherrypicker's Guide" did not designate a variety as a major rather than minor. As a result we can only document all the varieties we can find and assume all Third Party Graders would consider them minor varieties until one is determined to be a major variety.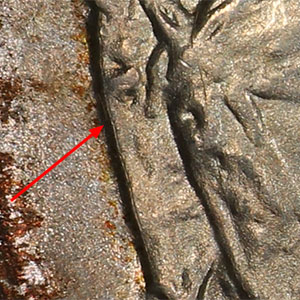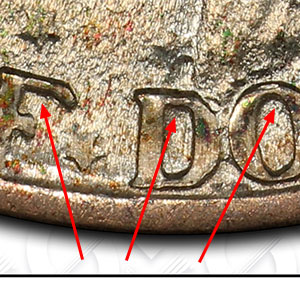 One of the easiest DDR dies to recognize is what appears to be a repunching of the F in HALF and the DO in DOLLAR. The memorial phrase can be doubled with a combination of both die and strike doubling.
This example is from PCGS 21025455, an MS66 graded coin.
DDR - Doubled or Tripled F DO, Doubled Memorial, Beak-Wing Die Gouge
This die has the same doubling or tripling at the inside top of the letters F DO, and the doubling of the memorial, but also a distinct die gouge that joins the beak to the right wing. This example is from PCGS 34242772, an MS64 coin.
​