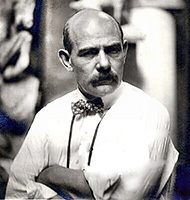 Gutzon Borglum is best remembered as the primary carver at Mount Rushmore. But before he received that commission he was the primary carver at Stone Mountain. A skilled and well known artisan, he was contacted by the Stone Mountain Confederate Monumental Association (SMCMA) and asked to create a likeness of General Robert E. Lee on the side of the mountain. Realizing the size of the mountain and the insignificance of the requested relief bust, he proposed a much more ambitious carving. His design included President Jefferson Davis, General Lee, Stonewall Jackson, an entourage of officers, and foot soldiers.
It is likely that Borglum understood the magnitude of the work, but believed he had techniques and skills that would lead to success. He began his work in 1916 and was able to unveil the head of General Lee in 1924. But stress, cost overruns, and disagreements with the SMCMA led to his departure soon after he revealed Lee's head. As a final act of disagreement, Borglum destroyed all the working models of his proposed carving and left little way for the work to progress since the working model would have been needed to scale up to the final work.
To make matters worse, the SMCMA had him arrested and created a final riff between themselves the sculptor. His dismissal and arrest created a divide between the SMCMA and the United Daughters of the Confederacy who dropped support for the project. In later years Borglum's concerns were validated and many wanted him to return to finish the carving. His continued fame with the success of Mount Rushmore made many believe that only he could complete the work. But he died in 1941 without ever returning to the project.